So here we are, the 22nd of July 2019, the day before we know who our new Prime Minister is to be here in Great Britain. It is pretty clear that this will be Boris Johnson (if it's Jeremy Hunt then there will have been some major league "stitch up" occurred). Let's face it, bookmakers are usually "right" about such things and as of 10.00 GMT 22/07/2019 the odds on Boris winning are 1.01 and on Jeremy Hunt 65 (if you're not familiar with "decimal odds" basically the lower the number, eg closer to "1" the more likely to "win"), the gap between 1.01 and 65 is "pretty damn big". However, if you stick a tenner on Jeremy Hunt and he wins you'd make a lot of profit and yes I put money on Boris, long before the odds went down to 1.01 as they are now.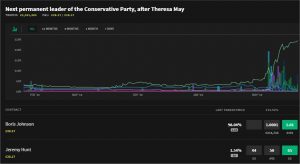 Alas United Kingdom is a divided nation as far as the populace is concerned now, with the populace and our politicians arguing (still) over "Brexit". Without trying to make too many generalisations (but it holds roughly "true") on the remain side we have remainers, people who voted remain (fair play to them to be fair, we had a vote and whilst many are displeased with the result they accept it, they understand the concept of "vox populi" and respect the majority vote of 2016's referendum). Then we have leavers (who arguably have "right" on their side as no matter how you slice and dice it 52% > 48% and a majority ruling for "leave"). Then we come to the "discontented", the so called "remoaners" who are doing everything they can to BACK the status quo and force the United Kingdom to remain in the European Union (hereafter referred to as the EU).

Of course the most vocal remoaners of all are mostly Members Of Parliament, which of course where most of the attempts to block our EU departure happen, which is understandable and has come about due to the efforts of Gina Miller who took the United Kingdom Government court to ensure a "meaningful vote" was held on our EU departure terms. Gina Miller did this because she knew it would obfuscate the process and keep us tied to the EU in the process, presumably in the hope the government would just "give up" concluding it was easier to just remain an EU member? Ironically though Gina Miller did leave a favour because the "deal" our Prime Minister came back from Brussels (the so called Withdrawal Agreement Bill) was truly atrocious, more of a surrender to the EU and not much of a so called "deal" to be seen. Our MPs rightly rejected it three times in Parliament, so they're not totally incompetent.

We've gone beyond what MPs want now though. No matter how you present the numbers the aforementioned 52% in favour of leave is still greater than 48% to remain. The arguing has to stop, the so called remoaners are tearing the United Kingdom apart with the constant battles to halt our withdrawal from the EU, especially the remoaners in the Houses Of Parliament, people like David Gauke, Keir Starmer and Philip Hammond to name but a few. I understand and respect Parliamentary sovereignty, HOWEVER, we had a referendum and the majority said "leave", there was no mention of a "deal", no mention of single markets, customs unions or anything else. We were asked "leave or remain" and the majority said "leave". After 3 years of obfuscation, delaying tactics, sheer "bloody mindedness" and remoaner based manipulation it's time to "bite the bullet" and leave.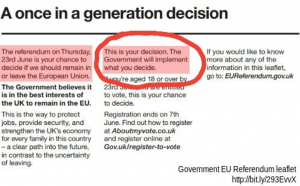 Boris Johnson needs to address exactly that spirit, quickly and affirmatively. Clearly it's no longer the 1930s or 1940s but what we need is more "Churchill spirit" and a lot less "Chamberlain meh but spirit" now. Leaving with "no deal" isn't going to be easy, but it's clear the EU is unlikely to offer us a real "deal" as oppose to Theresa May's surrender and the leave date being 31st of October 2019 is far too close for anything to actually change anyway (I mean come on, it's taken Conservatives a month just to decide who's going to be the next Prime Minister, so set up a trade agreement in 3 months? Good luck with that idea). It's time for a "Churchill moment", let's just hope Boris can deliver one. Boris himself knows this, hence this Daily Telegraph article. I know my support accounts for "diddley squat" in the greater scheme of things but I'm behind him and wish for his success.
Steve